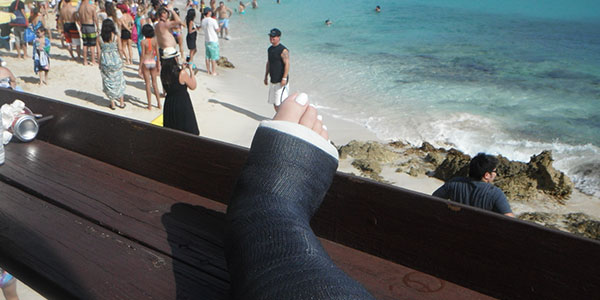 Travel insurance or travel protection plan is becoming more common day by day, as people are getting aware of the fact that the normal insurance policies can actually cover them if they are in their own country, but what will happen when they travel abroad, outside the United States?
Hence it is important to get yourself covered in your times of loss or mishaps as you travel abroad for vacations or professional purposes.
Many travel agencies offer travel insurances for their customers as an add-on benefit in their trip packages.
But you should know what your travel insurance doesn't cover. So, I will be discussing, in brief, the general travel insurance policy exclusions!
What are the general travel insurance policy exclusions?
I will be listing the policy exclusions in bullet points.
But remember, these are general exclusions that may or may not be common for every insurance company.
The insurance company will not reimburse you if the event / incident / accident occurs from any pre-existing illness, even if that results in trip cancellation, delay or interruption!




No reimbursement for trip cancellations due to non-emergency reasons. Or, only a small percentage will be reimbursed if your reason is valid but pre-planned!




There will be no reimbursement if attempts of suicide, adventure sport, self-inflicted injury or anything as such takes place that results in trip cancellation, life loss, or harm.




The company will not reimburse you for any loss that is a result of intentional activity, even if the activity is caused by you, your companions, who is sane or insane!




The medical travel insurance won't cover mental health disorders, psychological disorders, or any health condition arising from the use of intoxicants (narcotics, nicotine, alcohol, any scheduled drugs as per the US Drug Enforcement Act) if not prescribed by an authorized physician.




The insurance policy won't cover you in emergencies resulting from a condition related to pregnancy. This is applicable if you, your co-traveler or anyone traveling with you are  pregnant!




As said earlier, your policy coverage will be invalid if you participate in activities that fall under adventure sport, athletes, extreme sports, and/or running! To get yourself covered in such situations, you will have to buy a separate adventure travel insurance!




You will not be reimbursed for loss resulting from any unlawful acts by you or your fellow companion.




If you land in an accident while learning to operate any kind of aircraft or boats, be it as a pilot or a crew!




If you fall under Workers compensation, disability benefit or any such law.




Trip interruptions cancellations, accidents, injury, resulting from war, declared and undeclared, civil wars or any such act of war.




But the case is a bit different with acts of terrorism; your policy may or may not cover you for terror attacks. Check with your insurer in such a case, whether or not you have to buy a separate terrorism insurance.




If any health condition, trip cancellation, or trip interruption is taking place due to elective surgeries and other preplanned treatment or procedures, then you will not be reimbursed!




If your trip is canceled due to personal work, business, or an educational obligation of you or immediate family members or your travel companion, then such an instance is not covered by your policy.




If your travel agency, tour operator, or you are unable to meet up with the arrangement expectations, for which you have already prepaid, then you will not be covered and the insurance company will not pay for any such mismanagements!




If you suffer from any kind of illness that occurs when you are not covered by the plan or the plan is not in effect for you.




There will be no compensation of loss that takes place when your belongings get confiscated  by customs or any such detention or destruction!




If you suffer any kind of loss or damage due to any act of non-human beings, an act of god or animals, then you shall not be reimbursed!




If any damage is done to your property that you use for any kind of trade, business, or as a source of income, then it shall not be reimbursed!




Loss of or damage done to household furniture, musical instruments, brittle or fragile articles, or any sporting instrument shall not be reimbursed!




Only administrative fees for reissuing of tickets shall be reimbursed, else any other documents and tickets will not be covered by the insurance policy.




No compensation shall be provided for liquid cash (ex: if a wallet containing money is lost, then you will be reimbursed only the price of the wallet and not the contents inside. But check with your insurer once.), stamps, stocks and bonds papers, postal or money orders, securities, accounts, bills, deeds, credit cards, and anything falling under this category.




If your property is lost that were shipped in a vehicle unattended by you or as freight and/or that was shipped before the scheduled trip date, then these items shall not be reimbursed!




Any loss of items due to theft or pilferage or picking from a scene or vehicle unattended by you, shall not be compensated!




Unexplained scenario or any kind of mysterious disappearance of objects and damages done to them in such circumstances will not be compensated!




Loss, damage to objects, death, or damages done to you and your companions resulting from nuclear/chemical war, radiation, or radioactive contamination will not be reimbursed by the insurance company.
To keep in mind, your policy coverage ends on the date your covered trip ends.
If it's a covered round trip, then your policy coverage ends once you reach your return destination!
Your policy coverage will also become ineffective if your covered trip is canceled due to personal reasons as stated earlier in Policy exclusion Point No.13.
It is always advised to try out a multi-trip travel insurance to get maximum benefits. Single trip insurance is obviously good if you are only planning for a one-time vacation. But if you need to travel frequently, for business and other work, then look for a multi-trip insurance to save money and see what a multi-trip travel insurance cover!
To know about travel insurance policy coverage click here.
Nota. Bene: This article is only for educational purposes and can only act as a general guidance to understand how insurance policies work. Don't make decisions based on the information provided in this article while purchasing insurance policies. It is always advised to have a detailed understanding with your insurer about policy quotes, definitions, inclusions, and exclusions before you buy any policy. Policies vary from insurer to insurer, state to state, and time to time!