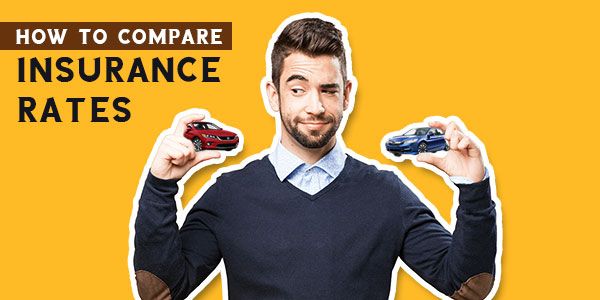 Why should you compare car insurance quotes?
Getting a car insurance policy is essential today. So, you might have to engage a good amount towards it.
But make sure that you are getting a complete coverage for the car. You should compare it with the money you are investing for the car insurance premium.
But there's a confusion. How do you know that you are getting the best coverage under an affordable cost? Is the car insurance company cheapest?
Very easy. Compare car insurance quotes from different companies before opting for a policy.
There are several car insurance companies and policies to compare. Each car insurance policy has its separate criteria for specialized coverage. Compare car insurance quotes from different companies. Competition between any business can be beneficial for the consumers. So, car insurance companies also offer much lower quotes when they face hard competition.
So, being a car owner, you must do your homework and compare car insurance quotes. It is simple if you know what to do.
How to compare car insurance quotes
The Insurance Information Institute (III) has some suggestions for the car owners. Car owners should get at least 3 car insurance quotes from the insurance company websites. Each quote must provide you with the same coverage, policy limits, and applied deductibles. It will help you to compare the costs of car insurance policies.
Let's discuss about the most important things you must consider before comparing car insurance quotes:
Choose your quotes as per your car value
Type of your car may increase or decrease the car insurance premiums. So, it will definitely affect your car insurance quotes. A high cost car comes with high quotes. So,  to get a cheap car insurance quote, you need to choose a good low or mid ranged car with fuel efficiency and easy-to-available spare parts.
Don't select a company based on assumptions
Many car insurance companies invest a lot of money for promotion. They like to show themselves as the cheapest coverage providers. Don't fall for it.
Insurance companies offer different types of coverage at different rates. Insurance quotes may differ based on your location. An insurer can't provide the same insurance quote to you and also to a driver from another state.  
So, it is wise to shop for the best deal by comparing several aspects.
The car insurance industry is competitive. So, your preferred company may not give you low rates or cheapest coverage the same as last year. The costs may increase considering the same coverage. The company may also reduce the coverage within the same cost.
While rate shopping for a car insurance, you must check:
The consumer track record and reviews of the car insurance company                                                            

The total client complaints ratio (Solved and pending)

 The exact same coverage, limits, and deductible.

The average rates of car insurance by state

Optional car insurance coverage (comprehensive, collision, rental reimbursement, and towing/labor cost)
You can reach to local and regional insurance companies
Allstate, Geico, Progressive, and State Farm – They are the 4 most popular car insurance companies. They control 50% of the nation's auto insurance business. So, as a car owner, you might also prefer any one of them.
But you can choose small, local, and regional car insurance companies, too. These small companies also have higher customer satisfaction grades and lower rates.
Choose a suitable liability limit
Auto liability coverage is necessary for new drivers in most states. It covers the cost of repairing your car and medical bills of another driver after an accident.
In most states, drivers need to buy a minimum liability coverage limit. Drivers can increase their auto liability limits any time. Due to a car accident, if the damage is greater than the state's minimum liability coverage limits, you may have to bear the extra cost.
There are two auto liability coverage limits:
Bodily injury liability coverage limit – It covers the cost of treatment for another person due to the accident.

 Property damage liability coverage limit –  It covers the damages to another person's property due to the accident.
While comparing car insurance quotes, these limits should be same for each company.
Consider big discounts
Insurance companies may provide good discounts to a car owner if:
The car owner is a member of special group or professional organizations.

The car owner has a good driving history.

The policy enrolled for more than one car and paid online.

Car owner pays the insurance premium in lump sums. It will be treated as an annual premium or a six-month premium.

The car has anti-theft safety system installed.

Car owner opts for the bundled insurance policies. For example – Your car insurance and homeowners insurance jointly with a cheaper rate.
So, compare car insurance quotes as per available discounts.
Increase your deductibles
The amount you'll pay while filing the car insurance claim is called the deductibles. You can choose your deductible money at the time of buying car insurance.
As per the Insurance Information Institute (III), if you choose higher deductibles for car insurance, you can save a good money on premiums. If you increase your deductibles by $300, it can give you 15% to 30% discount. Raising the deductible to $1000 can offer you 40% discount. But the rate of discount may vary in different states.
Choose usage-based insurance coverage
If you do not drive much,go for a usage-based insurance program. After signing up for this insurance, your driving or car usage will be tracked by the car insurance company. Your usage will determine how much discount you'll get. The more your usage, the more you may need to pay as premium.
Getting cheap car insurance quotes can be easy. But it has some criteria based on your driving history. Car insurance companies may include vivid terms in the fine print. Not all of them will be in your favor. So, you should ask whatever you find questionable.
You may need to contact the car insurance company, or search through the web, or ask a professional to get your queries solved. Do not hesitate;  grab as much information as possible before comparing car insurance quotes.