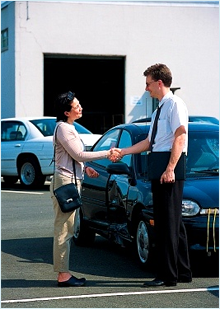 While shopping online for an auto insurance policy, you will come up with hundreds of choices. Insurance market is vast and new insurance companies seem to crop up like mushrooms out of nowhere. In the modern era of marketing, it's quite easy for shady companies to compete with veteran insurance companies, with the means of attractive advertisement. If you are a novice insurance buyer, you may easily fall for companies that actually trick people to accumulate money and mean to give no actual protection.
When you invest in an auto insurance company, you expect it to provide proper coverage to you so that you are protected in the event of a mishap. Apart from getting protection, you would also like to get an affordable insurance cost. The 'price' is where the bait lies; this is what the scam insurers use. They promise to offer you the most affordable prices, but then they don't have any intention of settling your claims when you need it. Other companies may just hike your premiums with a vague reason as soon as you become their customer, forcing you to switch companies. Whatever be their way of cheating, their only intention is to grab your money and serve you nothing in return.
So, how do you know that you are actually buying insurance against your money? The answer is to do adequate research before you pick out your auto insurance company.
Why you need to research before buying auto insurance policy
It is very important that you do proper research on the auto insurance company from whom you want to buy your policy. Now, that you can easily compare price quotes on the Internet, you can do your research as well that won't take much of your time. A safe bet would be to buy from a well known very old company, but then there can be newer companies too, which actually give great service with affordability. A very old company might have gone down on its finances, whereas a newer company might have soared up to the highest rank. This is why proper research is essential.
Facts to research online
Here are the few things you should check before you choose your auto insurance company:
1. The rank or rating:
There are several organizations that rate auto insurance companies. The ratings reveal a company's authenticity as well as customer satisfaction. This will help you to choose your company with ease. What more, some ratings are also based on the affordability of price that the company offers. You can consult the J.D. Power and Associates or A.M. Best ratings to your satisfaction.
2. Financial strength:
Only the ratings may not always tell the full story. If the company's financial strength is not good, it may have difficulties in paying out your claims. So, it's better to check a particular insurance company's financial condition as well. You can check the financial strength ratings online from A.M. Best and Standard and Poor's.
3. Claim settlement forums:
There are various websites which have forums that provide discussions on consumer satisfaction and grievances regarding claim settlement issues. You can go through some of them to gather idea about the other customers' good or bad experience with several insurance companies.
4. Consumer complaints:
Just visit your own state insurance department's website and check for consumer complaint ratios. You can mark or make a list of companies with the least complaint ratio. You can further search online with these company names and get a better idea about the nature of the complaints, and also check whether they were resolved or not.
Now, if you follow all these mentioned steps before you finally take your pick, you can be almost certain that you got the best deal, which provides real protection with affordability. Investing a little bit of time and effort will not only save you money and provide proper coverage but also ensure a great experience while settling your claims if you face such situation.
Thus, don't just grab the bait offered by insurance scams. Make sure you know your insurance provider thoroughly before you invest in it by becoming its customer. Research and get an overall beneficial insurance deal.