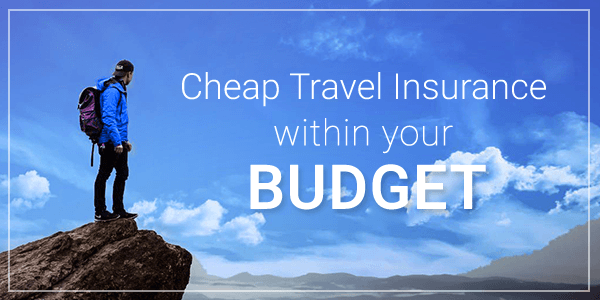 Travel insurance is one of those few things that are not given much importance. Many think what's the point in buying an insurance for a trip or a vacation, ain't it?
The vacation cost itself gets pretty high, and on top of that, an added insurance cost!! Who wants so much financial pressure?!
But, one should also not be so sure of the future.
Travel insurance should be counted as a necessary cost when you are planning for a vacation or a trip!
You got to rely on the fact that only a proper travel insurance can help you in your times of various hazards, emergencies, and mishaps, when you are in a foreign land!
Then again, it is not a mandate that you have to get the best and pricey travel insurance to get the best coverage!
Here are a few ways for you to get a cheap travel insurance:
Figure out a budget travel insurance:
When you are going to buy an insurance policy, check in what ways you are already covered by your other existing policies.
If you have a global health insurance plan as your primary health insurance, then you are already covered for major health expenses in a foreign land or country!
In that case, buying a travel insurance policy that is mainly based on emergency and foreign medical expenses will be a big loss for you.
You can, therefore, target a policy that mainly covers trip cancellation and interruption costs rather than the one that focuses more on medical expenses.
It's completely up to you, how you want to budget your travel insurance! Have a thorough talk with your insurer so as to customize your policy as per your needs!
Another important note could be about possession and personal belonging loss coverage. At times, a homeowner's policy already carries a hidden coverage for loss of belongings when you are away from home!
This is what we call an off-premise coverage.
This might be a very special and selective coverage that only a few people have access to, but who knows, you might be the one among those few!
Only go for a one-trip emergency medical plan:
If you think that there's nothing to worry about trip cancellations or interruptions, or loss of personal belongings, then you can buy a one-trip emergency medical plan!
As the name shows, this type of an insurance policy will reimburse you for any type of emergency medical situation, and that too for a single trip!
But, not every travel insurance company offers such a single trip plan! You got to search for them, you know, like what they call it…. Combing around!
However, Allianz Travel has the benefit of a single trip emergency medical policy. Search their website or call them to know in details.
But, one thing you should remember that this kind of a policy will help you the best if you don't prepay your holiday expenses. This policy won't cover your trip cancellation, interruption, or loss of personal belongings, unlike a normal travel insurance policy.
It will only cover the cost of medical expenses!
Recommended reading: All you need to know about what travel insurance policy covers!
Understand the clash of premium and deductible!
In one line, the premium is inversely proportional to deductible!
Understanding the relation between premium and deductible will help you to understand the policy cost.
If you are ready to pay a high out of pocket cost, that is called a deductible, then you will get to pay low premiums.
But if you want the other way round, like you don't want to pay a high deductible during the claim, then you will have to pay high premiums.
Therefore, your insurer is the best person who will help you to find which option is exactly suitable for you.
Playing the safe trick and the big risk with your policy:
Insurance is something whose significance is felt only when we are struck by an unexpected event or expense!
And travel insurance is also nothing different!
Hence, to minimize the cost of your policy, you can definitely select a very high deductible with very low premiums.
This idea is fruitful, if you never file a claim and are buying a travel insurance just for the sake of it!
But, if you land into a situation where you have to go for a policy claim, then it will be a really bad game for you. You will have to bear a huge deductible, and it might seem that the policy came of no help!
Don't plan a costly and a risky trip at all.
That's the best way to reduce your travel insurance cost. If you plan your trip in a very costly destination, like Finland or Dubai, then your travel insurance price will also shoot up.
The same thing you can experience if you travel interstate within the USA. As you already know the medical cost in America is the highest! So, even planning a trip to a nearby US state can also result in a pricey travel insurance.
Another aspect is avoiding countries that carry high-risk factors.
If you plan for Afghanistan, Iran, and so on, then your insurer will look for risky situations that can occur due to terrorist acts, civil riots, civil wars, etc. associated with these countries!
A safe and moderate travel destination is what you should choose if you want to have a low-cost travel insurance policy.
Another thing to mention, travel insurance price rises depending on the insured's age. The more is the age, the more will be the policy cost!
Also if you are into sports and do a lot of physical activities while you are travelling, then you better purchase a separate adventure sports travel insurance.
Else any claim you make resulting from such activities will not be considered by the insurance company, if they are not falling under the policy coverage.
These were the most common ways to get yourself a cheap travel insurance policy.
N.B: Understand all the policy clauses, coverages, and your profit margins, in detail, before buying a travel insurance policy.