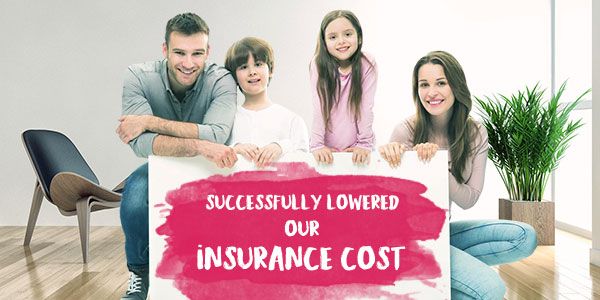 Let's assume that you have already bought, or are going to buy the four major insurance policies. These four policies are unquestionably home insurance, auto insurance, health insurance, and life insurance.
Handling all such policies' premium payments can turn out to be expensive, and you might want to opt out from the policy plans. Eventually, many people do cancel their insurance policies due to the 'premium' burden!
But today, we will be directing the story other way round, where we will see how to lower insurance costs in general.
What affects insurance premiums and how to reduce your premium for all insurance policies?
Insurance premium depends on 3 major factors.
1st is the insurance policy rate,
Insurance rate is the price per exposure/coverage unit of the policy. Insurance rate depends on many underlying factors that only the insurance company can decide based on the current market status.
2nd is the exposure unit,
Exposure unit, is the breaking up of your covered asset! If you have a car worth $10,000 and you bought a policy that values your exposure unit into $500, then your car is carrying a total of 20 exposure units as per your policy.
It's like adding several pieces to make one big piece!
An exposure unit for a certain policy coverage can be anything as set by the insurance company.
and 3rd is the claim deductible!
The deductible is the portion that is payable from your end, at the time of an insurance claim! You should always remember that deductible is inversely proportional to premiums.
The general formula for determining a policy's premium is given as:
Insurance Rate * Exposure unit = Premium.
An example will help you to understand how you can tackle high insurance costs:
Let's assume that Company X sells homeowners insurance at an exposure unit of $500, for a house worth $100,000.
Suppose this Company X sets its insurance rate at $12 per exposure unit, per year.
Then, your premium will be:
$12 * (100,000 / 500) = $2400 (considered annually)
Now, on the other hand, there's company Y, who values each exposure unit for a $100,000 house, at $1000. Suppose Y also offers the same insurance rate as company X.
But for company Y, the premium will be low, as:
$12 * (100,000 / 1000) = $1200.
So, in order to lower your premiums for an insurance policy, you have to keep 2 things in mind. The value of the exposure unit should be hgh, and the insurance rate should be low!
The scenario is same for all types of insurance policies.
You don't need to delve too much into how the insurance companies are determining their exposure units.
As said above you just have to look for a high-value exposure unit, and a low insurance rate for any policy, you plan to buy.
Paying a high deductible also proves beneficial in lowering premiums:
There's this other factor you should always consider when you want to lower your policy premiums.
If you decide to pay a high deductible during policy claims, then your premiums will get significantly lowered.
You need to however talk to your insurer, so as to see what are your options for paying a high deductible and a low premium!
But, don't think that paying a high deductible will always be a good way to lower your premiums.
As said earlier in this post, you should always shop around for a policy that offers a good combination of insurance rate and exposure unit! Else you will end up paying both high premium and a high deductible!
In what other ways can you lower insurance costs?
You need to understand one thing very clearly, –  insurance is all about risk and probability.
The less risk you pose to have in front of insurance providers, the better policy terms you will be getting from them!

So, how to prove insurers that you are a low risk policy holder:
You are always better off giving your house extra protection.
Try to install smoke alarms, theft protection, and other smart accessories. This gives assurance to your insurer, that you are taking preventive measures before hand! This will reduce the risk factor and your policy will cost less!
Taking protective measures for your car will ensure low policy costs. Safe driving is probably the best initiative you should take.
Along with, try to get a car, that has good seatbelt facility.
Also there are cars, that have nice shock absorbing capacity, but they come a bit costly.
Have a talk with your insurer to see what can be best for you!
With life insurance and health insurance:
You should aim to live a healthy life. Avoiding any type of addiction, say drinking or smoking, for example, will definitely give you a low-risk portfolio.
Try to buy bundle insurance:
This is the best thing you can do if you want to reduce all your policies' costs and premiums simultaneously.
Buying multiple insurance policies from the same insurance company will help prove your loyalty and will make you a potential customer in the insurer's eyes.
Know in detail: How bundle insurance helps you to get cheap insurance!
N.B: Even though there are many other ways to reduce insurance costs, still keeping these above points in head while buying a policy can really be enough! For more details however read the policy quotes and clauses, have a detailed talk with your insurer, and be clear with all your issues you want to discuss!
At the end of the day, only an insurer can help you out the best with lowering policy costs and premium payments!