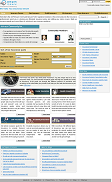 AmPmInsure now greets its users with a completely striking and professional look! Easier navigation, new tools and more information is what we have strived for. The growing popularity of the community has somewhat triggered this remodeling.
With simplified navigation, you will easily find your way through the site. You may now meet community members, participate in the forums, read insurance articles and share latest news on insurance and you can do all of this in just a few trouble free clicks.
The theme of the site makes it more user-friendly and striking. The site aims at being more approachable to its users and hence the changes. The purpose is to provide useful information on insurance and make sure that this information is made easily available to you.
Key changes made:
There have been significant changes made to create a more usable and easily navigable site. We have also made an attempt to include features that are much sought-after and that would help you (our users) deal better with insurance. The key changes include:
Our community members

You can now see our active community members at a glance, write to them in their mailboxes and put forth any insurance query.
Insurance guide

We have introduced the insurance guide which is a do-it-yourself tool that helps you assess your insurance needs. This exclusive tool has been designed keeping in mind the unique needs of each individual.
Highlighting 5 Main types of insurance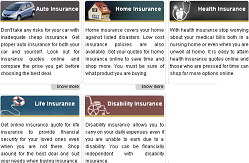 We would like to draw your attention to the 5 main types of insurance:
through our home page so that you can easily look for the content that you want. Our search box will also help you navigate through the site and land on the specific pages you have been looking for.
New logo

AmPmInsure has changed its logo! Since our platform is not restricted to time and is open to all time zones, we have decided to opt for the new logo. This new logo and the tagline also conform to the more advanced outlook AmPmInsure has adopted.
New Tagline

Our new tagline 'We Make You Insurance Smart' has been adopted as a result of the sincere contribution made by our community members in providing advanced knowledge on insurance. They have made the community a strong platform that provides smart solutions to insurance problems.

Insurance quote form

With this new add-on feature you can now seek insurance quotes from the community as per your insurance needs. Your request for insurance quotes will be handled by professional agents.
The 'must see' section

In this section we have made an attempt to highlight the much talked about topics in our community. It will certainly help you get an easier explanation of the much sought-after topics in insurance.

Color Contrast in the Forum

We have changed the color scheme in the forums so that you can differentiate one post from the other without any difficulty.
With the improved design and navigation you can now browse through the different sections of AmPmInsure with ease. We feel proud every time we are able to come up with new ideas to improve our site. Our experiments with the site will be ongoing and we would love to see useful changes again in the future.
Our designers and other team members are constantly racking their brains for new ideas for the site. So guys keep your eyes on us 'cause we might just come up with another stunning development in our site. We are open to suggestions and would love to have any kind of a feedback from you. What do you say?