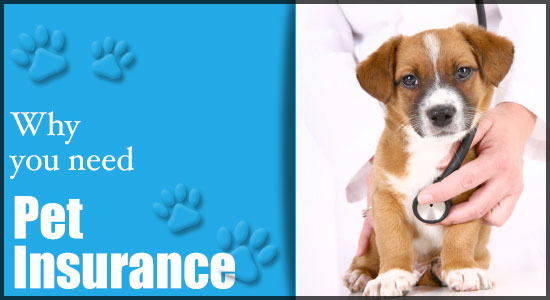 You'd never know how the cost of your pet's surgery, chemotherapy and a follow-up procedure would turn from an affair of couple of hundred dollars into a couple of thousand one. Such a cost would no doubt be worth every penny for you. However, on a second thought: Is all that costs necessary in the first place? Wouldn't that have been better, if you had pet insurance?
This topic of debate is a long-standing one. So read on to find out about the importance or the need of having your pet insured.
Why bother buying a pet insurance?
As per PetFinder, yearly medical care for pets usually lie in the range of about $150 for small dogs and cats to about $200 for larger ones. More, neutering or spaying your pet could cost you an extra $100 to $150 or higher.
However, costs of such preventive health care is just the tip of the iceberg. This is because the moment your pet (be it a cat or a dog) requires urgent medical attention for critical illness like cancer, then the medical bills may quickly spiral into thousands of dollars.
The claims analysis made by Veterinary Pet Insurance has found that the below mentioned canine conditions are one of the most common ones and alongside is the average cost of treating each one of them. They're as follows:
Malignant skin mass – $1,431.
Torn ACL (or cartilage) – $2,667.
Benign skin mass – $999.
Alternatively, treatment of cats are somewhat cheaper. Here are some of the most frequent medical conditions of felines and their respective average price for treatment:
Bladder stones – $985.
Tooth extraction – $924.
Cancer of the abdominal wall – $813.
Savings and pet insurance – The difference
Savings is no doubt a marvelous idea. However, it might fall short of preparing you financially to cover your pet's veterinary costs. Considering that you've been diligently contributing towards a savings plan for your pet's healthcare, but then you may not have the time to collect enough money to cover up your pet's medical costs in case of an unforeseen injury or illness. The fact is that you or for that matter anyone on this earth cannot pick the exact timing of illnesses or injuries. Plus, a single medical emergency may drain all your savings pretty quickly.
On the other hand, a good pet health insurance plan may be effective enough to have almost 90 percent of all the medical cost that you might have incurred in an emergency, reimbursed. This an insurer may provide you with in return for some normal as well as customary charges after making a minimal payment of about $100 as annual deductible for every single pet.
This can be of tremendous financial help for you, especially at a time when you're on the verge of spending hundreds or even thousands of dollars in terms of veterinary bills. Furthermore, a good pet health insurance provider will help you monetarily each time your pet needs timely medical assistance.
The debate and its bottomline
Yes, with routine preventive treatments, like dental cleaning and vaccinations, your pet might get to live a long and robust life, while having a pet insurance coverage will help you to pay for them with ease.
On top of that, when you know that you'll get reimbursed for all that you spend on your pet's veterinary care, then it'll keep you motivated to reach out for prompt medical help or make those important appointments accordingly.