Owning a pet is a lot of responsibility. It is as tough and rewarding as raising your own child. Pets make a wonderful source of joy, companionship, love and loyalty. Taking care of your furry friend entails a lot of responsibility and along with that, expensive medical care. Regular medical checkups and the subsequent costs may end up affecting your finances. If you are looking for an affordable solution to take care of your pet's needs then pet insurance is what you should be looking into.
Why should you get pet insurance?
Dogs, cats or any other recognized category of pets require specialized medical care, the cost of which can run into thousands of dollars. There can also be cases where you might have to consult a specialist or a surgeon. The insurance company will take care of a substantial portion of the medical bill and let you consult the best vets without having to worry about money.
Pet insurance covers your pet's health as well as any liability that might arise out of your pet's actions. Pet liability insurance takes care of legal and medical costs associated with the incident your pet is involved in. The cost and the premium will depend on the type and the breed of your pet.
When should you get pet insurance?
It is best to insure your pet at the earliest age possible. To insurance companies, a young pet is a healthy pet. You will be able to get lower rates. On the other hand, you are likely to pay a hefty premium for your pet if he is older. Older pets are more likely to face pre-existing condition exclusions.
What else does pet insurance cover?
Pet insurance covers a myriad of situations and needs. Some of them are:
• Preventive care – Preventive care costs like the cost of yearly injections, dental care, regular blood tests and annual health checkups are necessary for the continued wellbeing of your pet. The cost of such preventive care is covered under pet insurance policies.
• Chronic or recurring illness – Like humans, pets may also suffer from various recurring illnesses like flu or diarrhea. As they grow older, they might start showing symptoms of chronic illnesses like cancer or diabetes as well. Such conditions are treatable and in some cases curable with the right medication and treatment. The cost of such continued care can be disbursed with the right pet insurance policy.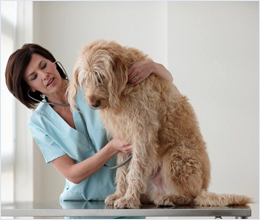 • Accidental Injury – Accidents happen! Insurance is purchased to cover the unpredictable. Pet insurance protects you and, your pet and takes care of all ensuing costs.
• Shots and vaccination – Contrary to popular belief, vaccination isn't a short or a cheap process. Most pups or kittens require a minimum of two multivalent vaccines administered three to four weeks from each other. There are booster shots and rabies shots to think of as well. Most pet insurance policies will either cover the full cost of vaccination, a certain number of shots in a year or at least a significant portion of the total cost.
• Neutering and Spaying – Desexing your pet is an extremely important process that no pet owner should skip unless they are planning to breed them. Spaying or neutering within the first year reduces the risk of genital cancer and other fatal diseases. A surgical process like desexing costs a lot of money. Pet insurance will cover a large portion of the bill after a small deductible.
• Death or loss – The death of a pet can take an emotional toll. Subject to certain exclusions, some pet insurance policies pay a death benefit when the unthinkable happens. The sum paid is equal to the market value or the cost price of your pet (whichever is less). They money can be used to cover the cost of burial or any other subsequent expenses.
• Travel – Your pet is your constant companion so even when you are traveling, you will want to bring them along. Some pet insurance policies cover the additional cost of renting a traveling container and freight charges.
Pet insurance lets you breath easy as far as the health and wellbeing of your furry friend is concerned. It provides you with the financial security to take care of your pets while knowing that you are being able to provide the best possible resources for your pet.