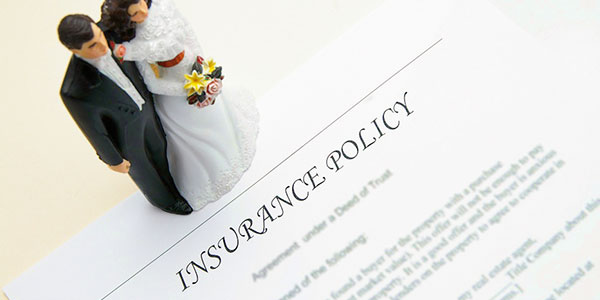 "A perfect marriage is just two imperfect people who refuse to give up on each other."
If you are planning to tie the knot soon and want to know about wedding insurance, you're at the right place.
1. What is a wedding insurance policy?
This policy will cover you economically if something unexpected happens on your big day.
2. Why should you purchase it?
To enjoy your big day with a peace of mind.
To get protection from unreliable vendors.
To get a refund from vendors if your marriage gets canceled or postponed.
To book your venue, because most venues require a liability insurance as they don't want to take the sole responsibility if anything unexpected happens.
3. What is the cost of this coverage?
Generally, the cost of this insurance depends on the amount of coverage you want. A basic policy which covers loss of attire, presents, rings, deposits, photos and videos may cost between $155 and $550. Whereas, a wedding liability insurance policy of $185 covers up to $1 million in accidents.
4. What does it cover?
A marriage insurance covers a whole lot of things like:
Wedding attire – It will pay for your bridal gown, tuxedo, and other special apparels if these are lost, stolen, or damaged.
Gifts – It provides a refund or pays for repair of non-monetary gifts if they get stolen, damaged, or lost, that too within a limited time. However, you should report such theft to the police.
Loss due to extreme weather conditions – If the marriage venue is damaged or a majority of guests couldn't make it to the wedding due to bad weather, it will cover the costs for rescheduling the ceremony.
Damage of videos and photos – If your wedding photos and videos are damaged, the insurance company may make payments for it.
Illness or injury – It provides coverage for illness or injury of the bride, groom or any person important to the occasion.
Wedding uncertainty due to the job – Military personnel may get transferred at a moment's notice. In this case, it offers protection if the marriage gets postponed.
5. What it doesn't cover
Jewelry, watches, pearls, or semi-precious gemstones (even if they're attached to the attire).
Your engagement ring won't get insured.
If the bride or the groom has a change of heart; that is, if one gets cold feet.
6. When should you buy this policy?
You can purchase this policy up to 2 years in advance. The sooner you buy it, the better it'll be for you.
7. Do you need marriage insurance?
First, check out whether or not your vendors and reception site are insured. If they aren't protected, then you must purchase this to insure any unexpected event happening before or on your big day.
8. Names of some wedding insurance companies
Markel
WedSafe
Wedsure
Wedding Protector Plan
Event Helper
To conclude
Every wedding insurance provides different coverage. You must talk to your insurance agent about the nitty-gritty of the game before purchasing this policy.
Read more: Is wedding insurance necessary?