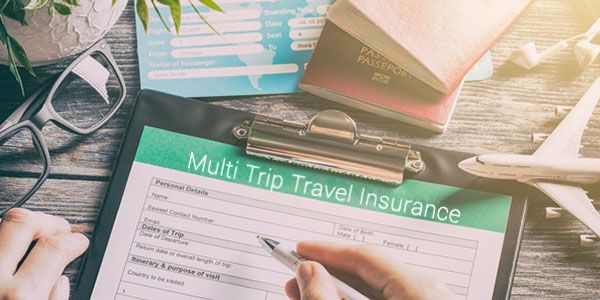 Traveling is fun. You keep aside your day to day worries and brainstorming at rest, and walk down the roads unknown.
But you can only have your peace of mind if you can travel carefree, knowing that you are protected. That feeling can only come if you ring the bell called 'Insurance'.
For your wanderlust, you just need this sensible thing called 'Travel Insurance'.
I won't keep you in the dark and you should know that these travel insurance policies are complicated!
They come in various shapes and sizes to utterly confuse you. But open your third eye and sit down in silence to figure out how a travel insurance can help you.
Now, here we will be discussing multi-trip travel insurance in detail.
We will try to answer questions like:
How will you benefit from an annual multi- trip policy if you are a frequent traveler?
How will it be cost-effective than buying separate policies for separate trips?
What will be the coverage?
These questions are very delicate; so, I will break down the key points that determine why you should go for a travel insurance.
1. When your pre-planned trip gets canceled just before the date of your departure.
Nothing can be more ironical than this. Anything like this is not only heartbreaking but also a good financial loss. Obviously, you had your flight tickets, hotel booking charges and other pre-reserved units in hand.
Just imagine you have an insurance, and the policy is ready to give you a trip cash-back at least some 80% or so!
2. When you fall ill in the middle of say a desert, in a cathedral in Rome, in the snow-capped Alpines, or in front of the Great Sphinx of Giza, what's gonna happen?
Your travel insurance will cover you for your emergency medical service expenses if anything happens to you when you are on a trip!
I guess this benefit is really something to look up to! Also, travel insurance will give a financial boost if anything happens (count in the highest risk factor – Death) to the insured member or someone close to him during the trip.
3. When your personal belongings or your baggage get misplaced, there are little to no chances of you getting it back. But with a travel insurance, you can be compensated for the loss.
The policy can cover you for the new items you got to buy and other inconvenience caused! It can also come to help if your luggage gets delayed due to faults in the transportation service!
Till now we evaluated points for single-trip travel insurance. But if you are a person who needs to travel often , say business trips every now and then to foreign lands, then buying separate policies for every trip will become a hassle.
The more you travel, the more you become prone to various types of risk factors. The probability of mishaps increases.
So, here, an annual multi-trip policy should be your game.
Without further ado, let's discuss the policy coverage for a multi-trip travel insurance:
The usual time limit for this policy starts to be effective from the date on your application to a period of one year. The coverage comes into action each time you start to travel from or within your home country till your return date.
The policy will cover you for any trip interruption you have to face due to strong and valid reasons. They can pay you for any new traveling option you plan to opt due to your trip getting interrupted. These include new flight fares, vehicle fares, and other discrepancy fees.
Usually, if your trip is delayed for more than 12 hours, due to reasons such as hijacking, natural disasters or in times of civil wars, then you are covered for any unused land or water travel reservations.
Medical protection, includes emergency medical situations that arise during the period of your covered trip. The expenses reimbursed will range from doctor/hospital fees in your homeland and abroad, to medical evacuation fees like air ambulance and such till the policy is effective!
If an emergency situation arises when your belongings and/or fellow traveling members need to be deported or transported to their home country, the expenses to do so will be covered.
Travel accident protection. If any severe accident that happens to injure you in a way that you are unable to take independent decisions for that time like life loss, 2 or more limbs loss, eyesight loss, then you will be fully reimbursed!
If the reasons are valid, then your other fellow travelers might be reimbursed in times of emergency. They include your business partners, domestic partners (at least 18 years of age and holds a proof of financial independence and that he/she is traveling with you), and immediate family members.
During a severe act of terrorism and civil disorders, your trip will be totally compensated. Just make sure whether or not you need to buy terror insurance as a top up, or it is already included in your policy.
Other coverage include meals, added accommodation charges, and reasonable essential items you need to buy due to delayed transportation, medical bills, etc.If needed your insurance will also bear costs due trip interruptions, Only, the inconvenience caused should not be from your side!
Now the things that are not covered by your multi-trip travel insurance policy:
Psychological disorders like stress, anxiety and other mental conditions that are not severe to hospitalize you during a trip.
Problems arising due to drugs and intoxicants abuse. This includes nicotine and alcohol!
Problems related to pregnancy if not hospitalized.
Medical conditions arising from a war whether or not it is declared.
Taking part in any kind of adventure sport and you are not covered by an adventure travel insurance.
Unlawful acts by you or your fellow traveling member that causes physical harm and trip interruption.
>Trip interruption due to confiscated items such as narcotics and any form of weapons.
Physical harm or death of your pet or animals.
Artificial limbs, teeth, prosthetic devices, dental braces or bridges or other orthodontic devices are not covered.
If your death and your fellow member's death is caused by an existing sickness, then the loss is not covered.
Damages due to nuclear reaction or radioactive contamination or injury caused due to other bio-hazard substances.
Those were the general idea of a multi-trip insurance policy inclusions and exclusions. It is always advised to read your agreement forms and quotes carefully before you buy such an insurance policy.