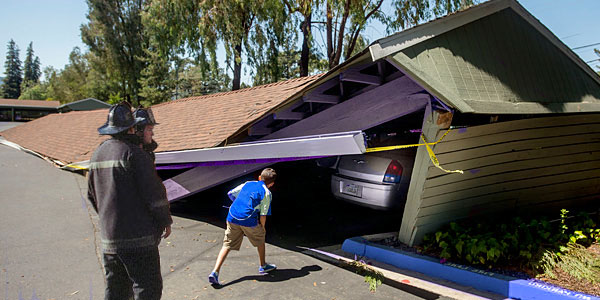 The 6.0 magnitude quake that hit the golden state in August, left the state with massive economic losses of more than $1 billion. When it comes to gain control of this situation and conquer it, a majority of the toll will come from the common man's pockets.
Despite estimates of the risk of earthquake has increased in recent times, the percentage of homeowners with earthquake insurance in California and across the US has declined drastically. A survey conducted by the Insurance Information Institute (III), a non-profit organization funded by the insurance industry, reveals that a meagre 7% of the US homeowners have earthquake insurance – a drop from 13% just two years ago.
But when the people are opting out of earthquake insurance, the federal government is elevating its assessment of the risk. After 2008, the US Geological Survey updated its seismic hazards maps last month. The result was an alarming one since the update showed an increased earthquake risk for almost half of the country. Parts of Oklahoma, Oregon, Tennessee, and Washington among many others moved into the top hazard zones. For example, as per the agency, the San Francisco Bay area has 63% chances of experiencing one or more major earthquakes by 2036.
So what could be the reason behind people avoiding earthquake insurance when the government is apprehensive and predicting major quakes in near future? Doesn't this seem a no-brainer? Usually, natural disasters like hurricanes, wildfires and tornadoes, are covered under regular home insurance policies. However, earthquake insurance is purchased individually and often come with higher deductible apart from the higher premiums. According to the California Department of Insurance, in 2013, the average earthquake policy was $676 a year, with a deductible of 10%-15%.
Taken the rates into account, a person having a $800,000 home in California with a 10% deductible might have to pay $80,000 out of pocket in order to get any relief. "In a high-risk area, [earthquake insurance] is not inexpensive, and that's because the risk is not insignificant," the CEO of the California Earthquake Authority told Southern California Public Radio.
According to the Insurance Information Institute (III), flood insurance, which is also not covered by standard home insurance policies, had average annual premiums of $632 in 2013. And as long as the deductibles are concerned, there might be only a $1,000 for home and another $1,000, thus making insurance appear fast enough in rescue when the average flood claim was $26,165 in 2013.
About 13% of the US homeowners had a flood insurance policy last year, and this metric has remained steady since 2009. This is chiefly because people purchasing homes in a flood-prone area are required to buy flood insurance as a condition of their mortgage. However, earthquake insurance is not mandatory with any kind of mortgage.