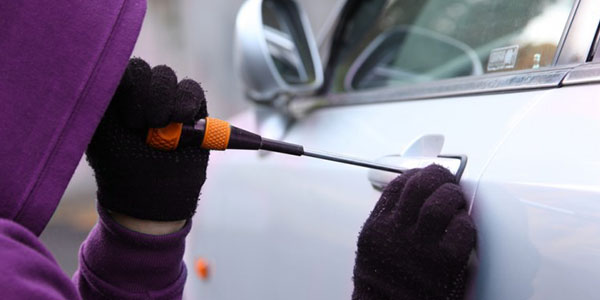 Auto break-ins are very common these days. According to the FBI, more than 1.17 million thefts from cars were reported alone in 2014, with an average loss of $835 per incident. Apart from these, an additional 360,000 vehicle accessory thefts were reported, with an average loss of $553.
In spite of the fact that today's modern cars come with advanced anti-theft mechanisms, the perpetrators are proving themselves to be more advanced, and smarter.
Nowadays, many are using advanced equipments like electronic 'scanner boxes' to wirelessly reprogram keyless entry systems. It's simply giving them the access to pop the lock and get in.
"The criminal act of stealing vehicles through the re-programming of remote-entry keys is an ongoing industry-wide problem," said Jaguar Land Rover in a statement.
Here are things you should do if your car is burglarised:
1) File a report: If you find out that your car has been burglarised, stay there and call the police. Don't go out of the scene before you report. You should have enough evidence in support of the theft. A picture of the broken window or the jimmied door will be helpful to get your insurance claim approved.
In some cities, a law enforcement officer may turn up on the scene. If not, you'll have to visit the nearest police station and file a report. Don't forget to take your driver's license, vehicle registration, and insurance certificate along with a list of the items stolen. You'll need a copy of this report while filing the claim. Even if the thief gets caught, you'll probably get back the stolen stuff.
2) Protect personal and sensitive information: If your debit or credit card was in the list too, get in touch with the institution who issued it and block it immediately. Take fast actions in case a debit card is among the stolen list as if you wait too long, you can face tragic consequences – losing all money in your account.
Getting your identity stolen is also a major issue. If anything you lose has sensitive personal information like name, date of birth, address, or social security number, you should immediately put a fraud alert on your credit record so that no one can open new accounts in your name.
3) See if filing a claim will be of any help: Insurance for car breaks-in usually fall under two types of coverage: comprehensive or homeowners and renters insurance. Comprehensive coverage is an optional car insurance coverage designed to pay for certain repairs not appearing due to collisions. However, before you file a claim, remember that the indemnity will be reduced by the amount of your deductible. For instance, if the amount of deductible is $1,000 and the damages cost $600 to repair, you won't receive any money by filing for such a claim.
If you have renters or homeowners insurance, it will cover those stolen belongings that are not permanently glued to the car. For example, it'll cover your cell phone but not the music system of the car. Here too, the issue of deductible comes in.
Apart from these, a claim on your records will simply raise your premiums – especially if the claim includes stealing of valuables that you left in plain sight while the car was parked outside a parking spot.
4) Get your car repaired: No matter how the break-in took place, get the required repairs right away so that you don't fall victim to another burglary. You may either hire the services of an independent adjuster, or the agency's adjuster will determine the actual damages and the compensation. If you have a comprehensive coverage, the cost of the repairs after deducting the deductible will be paid by the insurance company.
Having a car broken into is always a painful experience. But if you have the required coverage, there will be limited losses. If you have any queries related to car insurance, you can ask our experts in our auto insurance forum.