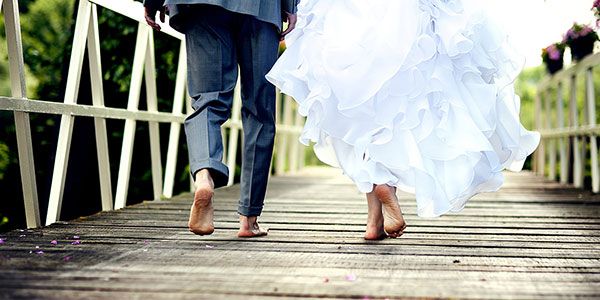 From ripped bridal gowns to smashed cakes, a single episode of You've Been Framed can show you things that can go wrong during a wedding. According to surveys, from attires and accessories to catering and rentals, average American weddings cost $26,720.
Couples, on average, spend between $20,040 and $33,400 on their wedding, and if you're one of those who is planning to spend a fortune on your big day, if makes sense to take out a wedding insurance. Afterall, it is wise to guard against the unseen.
What purpose does wedding insurance serve?
Nowadays, weddings are planned far in advance. You make all the reservations, bookings long before the date. Expenses due to the deposits and non-refundable payments add up, and if any misfortune happens at the last moment, you don't get the time to recover the loss.
Wedding insurance is designed to to cope with unfortunate losses during weddings - such as the wedding gown getting ruined, or the venue gets damaged during the wedding.
The concept is very familiar. Just like insuring valuables, in case of something unfortunate, you are not held responsible and the insurance company deals with the losses.
An analysis of Travelers' wedding insurance claims from 2014 found that:
44% of claims involved vendors not living up to the promise and failing to deliver of the D-day.
28% claims involved damages to the property where the wedding took place
8% of claims resulted due to sickness of the key personnels (i.e. bride, groom, immediate family members) thus leading to cancellation or postponement of the wedding
Other issues, for instance military deployment and issues with bridal attire, accounted for about 6% of claims, respectively
How much does wedding insurance cost?
Usually, the plans range from $100 to $500, depending upon the coverage amount and the extent of coverage. A wedding insurance plan usually covers photography, wedding dress, venue, catering, etc. Indeed, it covers anything and everything that has any significance with the date.
Is wedding insurance worth the investment?
Concluding to such a statement absolutely depends on how much you're spending, and how much you can afford to lose in case you face an unwanted event. If your budget is too high, if you have already drained all your money, and got nothing to save your from an unforeseen loss, wedding insurance can be your savior.
If you've spent around $30,000 on your wedding, I hope you won't mind another couple hundred dollars if they offer the much-needed peace of mind on that particular day.
If you make up your mind to go for the coverage, make sure you read the terms of the policy carefully so that you don't regret later. It'd be sad not to receive a coverage you paid for due to your failure to abide by the terms.
Nevertheless, also make sure that you're not paying twice for a coverage. For instance, venues are often insured against natural calamities. So talk to the renter before you get a policy.
So do you think you'll get a policy on your most important day? Do you know anyone who has done it?